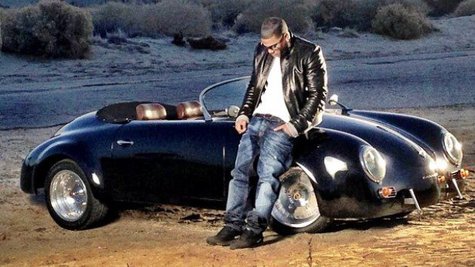 Nelly's revved up his singing chops in his new video, "Hey Porsche," which is now available for viewing online .
The video takes place in a desert, and opens with Nelly leaning against a black convertible Porsche as he sings about a woman of the same name. The clip features Nelly playing three roles: the narrator, wearing shades and a black leather jacket; a grease monkey working on a rich woman's vintage sports car at a roadside service station; and a bespectacled guy working in the back office of the service station.
Nelly-the-mechanic kicks his best game to the mysterious Porsche driver, serenading her with lines like, "C'mon let me slide under, under/ So I can work on you," and other car-related sexual metaphors. At the end of the video, the woman gives the bespectacled office Nelly a come-hither look and gestures towards the car keys on his desk. Next thing you know, the two are driving off together down the desert highway, as Nelly sings, "Hey Little Porsche/ I wanna try ya/ Crazy baby girl/ There ain't nuttin' like ya."
"Hey Porsche" is the first single from Nelly's upcoming album M.O. which is due to be released later this year. Guests on the album will include Nelly Furtado -- Nelly and Nelly, how cute! -- plus Trey Songz , T.I. , Akon , Pitbull and the country music duo Florida Georgia Line . It won't be the first time Nelly's dabbled in the country music scene. In 2004, the rapper scored a #1 hit with "Over and Over," his duet with Tim McGraw .
Copyright 2013 ABC News Radio