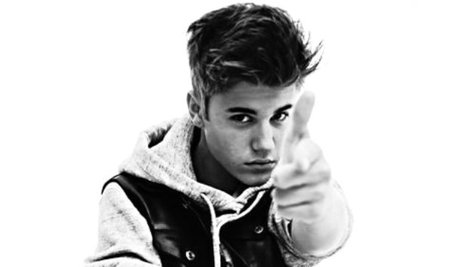 Happy Birthday, Biebs! Justin Bieber turns 19 on Friday, March 1, and even though he doesn't have any Grammys, and his love life may not be 100 percent perfect right now, he's got plenty to celebrate.
Justin just marked a major milestone when his album Believe Acoustic debuted at #1 on the Billboard album chart. It was his fifth disc to top the charts, making him the only artist ever to have scored five #1 albums before the age of 19. In addition, the singer is now only the 10th artist in the history of the Billboard chart to reach #1 with an album four years in a row.
What's more, Justin just hosted and served as musical guest on Saturday Night Live , and hopes to branch out into acting in the near future; a movie project with Mark Wahlberg is reportedly in the works. Another concert film is also on tap, and there are also plans for him to executive-produce an ABC sitcom based on his life before he became a superstar.
In addition, Justin has enjoyed critical acclaim for his album Believe , which has produced the hit radio singles that had previously eluded him. He's also enjoying the success of his protegee Carly Rae Jepsen , who had the best-selling song in the world in 2012. Both he and Carly just scored Juno Award nominations in their native Canada.
Of course, Justin also continues to give back, through his work with various charities, like Pencils of Promise. Justin's manager, Scooter Braun , says that's always been one of the singer's goals since the very beginning.
"Justin's always been a giving person," Braun tells ABC News Radio. "He and I have had conversations [where he said] he wanted to be one of the most philanthropic artists of all time, like his hero Michael Jackson . And I have a rule in my company where every single deal that I do has to have a charitable component. And when Justin saw that, he said, 'I wanna do the same thing.'"
In fact, the only downside to Justin's amazing success is the fact that every detail of his life -- good and bad -- is constantly splashed across the headlines, from his relationship with Selena Gomez , to his alleged experimentation with marijuana. While he does open up in his music, Justin tells ABC News Radio he's guarded about certain things.
"I mean, I think that people are always gonna be interested in my personal life," he says. "I wanna just give them as much as I wanna give them, you know? Some things are just for me, and private for me."
Justin's currently overseas on his sold-out Believe tour. He has the day off on Friday, but the tour resumes on Saturday in Nottingham, England, before moving to London for four shows at the O2 Arena, and then on to the rest of Europe. The tour's second U.S. leg starts in June and will keep Justin on the road through August.
Copyright 2013 ABC News Radio