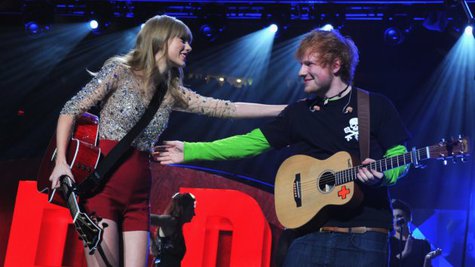 Ever since Taylor Swift and Ed Sheeran teamed up musically, people have been trying to team them up romantically. But even as reports surface that the two spent most of an evening together in a hotel room last month, the British singer denies that the two are hooking up.
"We're good friends," Ed told the British paper The Sun . But despite his denials, the paper claims that he and Taylor are involved in a "secret romance." A source told the paper, "Taylor has always loved Ed to bits. He's just an adorably sweet guy who makes her laugh and feel really confident."
Referring to Taylor's ex Harry Styles , a friend of Ed's, the source added, "Harry had that irresistible bad boy thing but Taylor has realized she would rather give it a go with a guy who can make her happy on a different level."
Last year, Ed explained that Taylor wouldn't be interested in him because all her past boyfriends were tall, brown-haired, brown-eyed hunks, while he's a "chubby ginger," "ginger" being British slang for a red-haired person. But The Sun claims that in a TV interview -- it's not clear which one -- Taylor allegedly said, "I like people with red hair. I would do a ginger."
When Taylor's Red tour kicks off later this month, Ed will be in tow as the opening act, so the two will have plenty of time to work on their relationship, whether it's romantic or not.
Copyright 2013 ABC News Radio