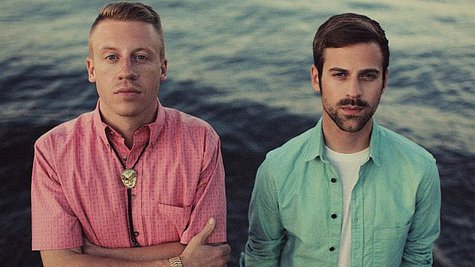 "Same Love," by Macklemore & Ryan Lewis, is a gay rights anthem, so it's no surprise that Macklemore is happy about the Supreme Court decisions on Wednesday that overturned part of the federal Defense of Marriage Act and allowed same-sex marriage to become legal in California once again.
In a lengthy statement on his website , Macklemore, who was partially inspired to write "Same Love" because his uncle is gay, writes, "Today is a historic day for civil rights in America...This means that people like my uncles, who have been in a committed relationship for over 20 years, will now receive the same rights that my parents have."
He adds, "Personally, I feel reconnected to my American identity, and am proud of the progress we have made in recent years. Today gives promise to the hope that we can and will change when our nation isn't fair and just....It's a victory...for all who devote their lives to fight for what is constitutionally and ethically right."

However, the rapper cautions that we still "have a long way to go," pointing out that there are still "37 states in our country that must shift legislation on same sex marriage before equality for same-sex couples is reached." He also notes that "homophobia and intolerance continue to play a strong role in many households, schools, media and religious institutions in our country."
The rapper feels that without addressing those underlying problems, "America's momentum towards justice will be stagnant and insincere."
He finishes by saying, "We, especially those of us whose rights are secure, are challenged to not sit passively in this crucial moment of cultural progress. True change lives in the minds and hearts of the people that make up our country, and must be cultivated, not mandated. We all have a part to play."
"Same Love" is on track to become Macklemore & Ryan Lewis' third hit, following "Thrift Shop" and "Can't Hold Us."
Copyright 2013 ABC News Radio