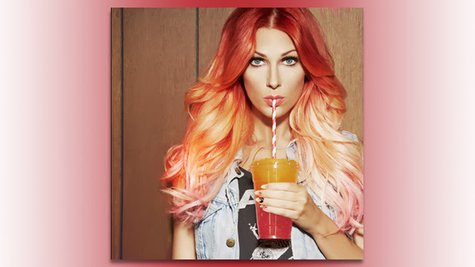 You may not know Bonnie McKee's name, but the songs she's written are inescapable: a short list includes Katy Perry 's "California Gurls," "Teenage Dream," "Last Friday Night," "Wide Awake" and "Part of Me," Britney Spears ' "Hold It Against Me," Taio Cruz's "Dynamite" and Ke$ha 's "C'mon." She's also penned tracks for Carly Rae Jepsen , Christina Aguilera, Kelly Clarkson and more. Now, some of Bonnie's famous friends are coming together to support her as she launches her own solo career.
A new lip-dub video for Bonnie's single "American Girl" has been released and just some of the stars who appear in it are Katy Perry, as well as Carly, Ke$ha, Taio Cruz, Jason Derulo , Macklemore , Adam Lambert , Karmin , Jewel , Nicole Scherzinger , 'N SYNC's Lance Bass and, bizarrely, the legendary rock band KISS and Motley Crue drummer Tommy Lee , in drag.
A bunch of non-musicians appear in the clip as well, including Jane Lynch, Jenny McCarthy , Kelly Osbourne , Joan Rivers, Kathy Griffin, Star Trek actor and gay activist George Takei , and Giuliana Rancic .
Oh, and Bonnie herself is also in the video, rocking two-tone yellow and orange hair and sucking on an ice pop.
Copyright 2103 ABC News Radio