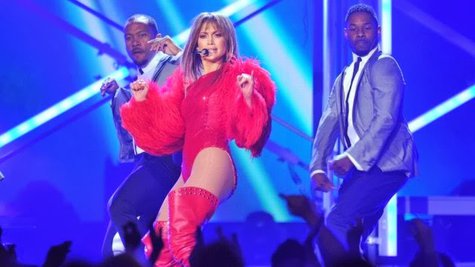 A few weeks ago, Jennifer Lopez earned some U.K. viewer complaints with her performance on Britain's Got Talent, mostly because she wore a racy high-cut leather leotard, and then slid across the stage directly into the camera. But now, she tells the British paper The Telegraph that her outfits aren't too sexy -- it's just her bodacious body that makes them look that way.
"I think it's a little bit much," J-Lo says about the complaints. "I don't think I'm any racier than any other female pop artist. OK, I'll wear a sexy outfit, but I think it's more because my body shape's a little different to other body shapes, so that's not very fair."
But the mother of two isn't complaining. "I love my body," she tells the paper, adding, "When I got pregnant, I remember watching my back, belly and butt grow and thinking, 'I will never be the same again.' Then I remember right after the twins were born having that weird jiggly belly -- and kind of loving that, too. Because I earned that jiggly belly."
She admits that it took her an "entire year" to get her body back, and says that it's "bull" when any celebrity claims to have regained her figure just a few weeks after giving birth. "Sure, you can dress nicely after a couple of months and people will say, 'Oh, look how amazing they look in a picture taken from a good angle,'" she snorts. "But the truth is, it takes your body time to go back, and I think these days women are too hard on themselves with that.
"Nobody bounces back straightaway," she adds. "You don't know what kind of Spanx these women are wearing under their clothes, and what other tricks are going on."
Copyright 2013 ABC News Radio