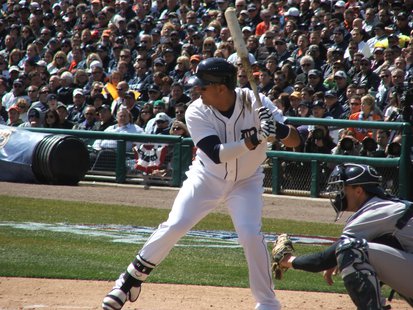 UNDATED (WHTC) -- Victor Martinez drove in five of the Tigers' 10 runs in a 10-3 rout of the Red Sox at Tiger Stadium. Four of his runs batted in came on a first-inning grand slam. Starting pitcher Max Scherzer improves his record to a perfect 11-and-0. He lasted seven innings and allowed two runs on six hits with six strikeouts. The series at Comerica Park continues this afternoon. Coverage on 1450 WHTC begins at 12:40 PM.
Ronny Cedeno dropped a suicide squeeze in the top of the ninth to score the game-winning run as the Astros came back for a 4-3 win over the Cubs at Wrigley Field. Cubs closer Kevin Gregg was handed his first loss of the season in a non-save situation. The two teams have split the first two of the three-game set. The Cubs and Astros meet again at Wrigley Filed this afternoon.
Jordan Danks scored on a Alejandro De Aza sac fly in the top of the ninth inning as the White Sox clipped the Royals, 3-2, at Kauffman Stadium. Addison Reed grabbed his 21st save with a perfect ninth inning for Chicago, which has taken the first two of a three-game set against Kansas City. The White Sox try to make it three in a row in Kansas City this afternoon.
The West Michigan Whitecaps got a brilliant pitching performance by heralded 19-year-old prospect Jake Thompson on Saturday night, but it was not enough to avoid a 2-1, walk-off loss against the Great Lakes Loons at Dow Diamond. The Whitecaps continue a six-game road trip with the opener of a three-game series against the Fort Wayne TinCaps. Coverage starts at 1450 WHTC and WHTC.com at 4:55 PM
Patrick Kane scored twice to power the Chicago Blackhawks in a 3-1 win over the Boston Bruins in Game Five of the Stanley Cup Final from United Center. Corey Crawford made 23 saves in the cage for Chicago, which can hoist the Stanley Cup with a victory in Game Six from Boston on Monday night.
Story by: Diane Coston