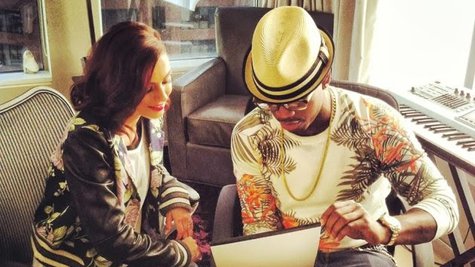 Last month, Ne-Yo and Cher Lloyd announced they were teaming up to write a song for a new ad campaign for Fruttare Fruit Bars, with input from fans. Well, the song is now finished and streaming on Fruttare's Facebook page , and Ne-Yo said he was "pleasantly surprised" by the entire experience.
"I gotta say that I appreciate how serious everybody took this," Ne-Yo says of the fact that Fruttare asked people to submit their ideas for the creation of the song, called "It's All Good." "Asking people to send any kind of messages via the Internet is basically asking for, you know, a little bit of stupidity, a little bit of inappropriateness. But we didn't catch any of that with this. Everybody really took it serious and really wanted to be a part of it."
Ne-Yo also says he was happy about how "smooth" the process of collaborating with Cher went. "When you're writing with another writer, there's a large area of room to bump heads...ideas that clash or whatever the case may be," says the singer, who's co-written numerous hits for other artists. "But I can honestly say that there was no literally clash whatsoever in regards to the writing of the song...It was almost too easy."
As for what he got out of the experience, well, a "lifetime supply" of Fruttare Fruit Bars, to start with. But it's not about the cash: Ne-Yo says he won't put his name behind a product unless he really believes in it.
"It's gotta be something that means something to me in some way, shape, form or fashion," he tells ABC News Radio. "I could never put my name on an article of clothing that I don't wear, or a food or beverage that I don't enjoy....You know, it can't be, 'Well, I'll do it because the money is good.' I'm not that guy. I pray I never become that guy."
Meanwhile, Ne-Yo is thinking about his next album, which he says will likely be mostly R&B, and he's also waiting to hear whether any of his material will end up on Beyonce's new album, which everyone is waiting for, but nobody knows when it'll be released.
"I did some stuff that she liked in the moment, but time has shown that that really doesn't mean anything," says the guy who wrote "Irreplaceable." "I won't know until the official tracklisting comes out. But with that being said, to my knowledge, she's still recording, just making sure that everything is as right as humanly possible." And according to Ne-Yo, that's just how Queen Bey rolls.
"One of the things that I love about Beyonce is that she's not the kind of person that is going to allow anything or anybody to rush her to do what it is that she does," he explains. "She's good enough to where she can sit still for a while....and make sure that it's going to be as right as right can be, and then put it out and it's like she never left. That's one of the beautiful things about being Beyonce."

We'll also be able to hear Ne-Yo duetting with another diva, Celine Dion, on her forthcoming album, which also doesn't have a release date, but which is coming out this fall.
Copyright 2013 ABC News Radio