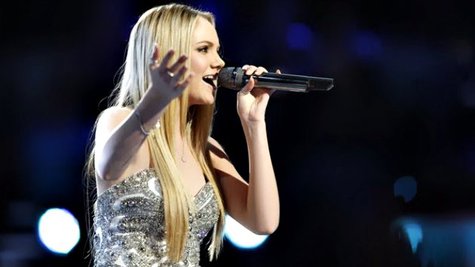 Danielle Bradbery was named the fourth-season winner of the NBC singing competition The Voice on Tuesday night.
The 16-year-old country artist from Texas, who was coached by Blake Shelton , received more votes than runner-up Michelle Chamuel , the eclectic, bespectacled pop contestant who was a member of Team Usher .
In a brief speech after host Carson Daly made the announcement, Danielle said she was "so thankful" for the experience.
With her victory, Danielle earns a recording contract. She'll also appear on NBC's The Tonight Show on Wednesday night.
This marks the third consecutive season of The Voice in which Blake coached the winning artist.
Danielle was a stand-out in the competition from the moment she auditioned for Blake, Usher, Adam Levine and Shakira . She shocked them all by telling them she'd never had a vocal lesson and had never performed publicly before.
Danielle wasn't the only success story for Blake on The Voice this season. Blake, who turned 37 on Tuesday, also guided Oklahoma country duo The Swon Brothers to a third-place finish.
Daly said at the start of the telecast that the results were determined via what he described as "unprecedented voting."
Michelle and The Swon Brothers did not leave the finals empty-handed. In a prerecorded segment, Daly surprised Danielle, Michelle, and the Swons with new cars from Kia Motors.
Each of the three remaining acts performed multiple times during the two-hour results show. Danielle joined young country star Hunter Hayes for a rendition of his song "I Want Crazy." She also invited eliminated contestants Amber Carrington , Caroline Glaser and Sarah Simmons onto the stage for a cover of Carrie Underwood 's "All-American Girl."
After she was named the new champ, Danielle reprised her performance of Sara Evans ' "Born To Fly" from Monday night.
Michelle teamed up with one of her favorite bands, OneRepublic , for a live version of the group's tune "Counting Stars." She also sang Stevie Wonder 's version of the Beatles song "We Can Work It Out," alongside eliminated artists Cathia , Josiah Hawley , and Vedo .
The Swon Brothers shared the spotlight with Bob Seger for Seger's "Night Moves." You may recall the Swons played Seger's "Turn the Page" on the show earlier this month. The brothers were also joined by eliminated artists Amber Carrington, Holly Tucker and Justin Rivers on "Stars Tonight," by Lady Antebellum .
Aside from the aforementioned collaborations, the musical guests included Cher , who performed her new single, "Woman's World"; Bruno Mars , who sang "Treasure"; Pitbull and the soon-to-be-returning Voice coach Christina Aguilera , who duetted on their hit "Feel This Moment"; and Florida Georgia Line and Nelly , who performed "Cruise."
This season of The Voice marked the first for Usher and Shakira, who filled in for Christina Aguilera and Cee Lo Green . Christina and Cee Lo will return to The Voice this fall, though Shakira and Usher will be back for the spring 2014 season.
Copyright 2013 ABC News Radio