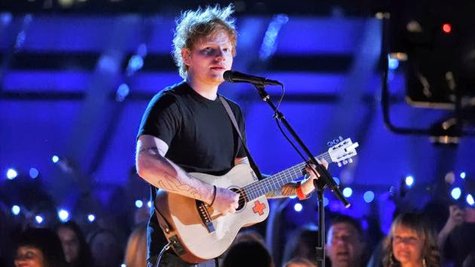 Aside from his constantly obsessed-about friendship with Taylor Swift, Ed Sheeran is an unassuming guy who flies under the radar most of the time. If he's not with Taylor, he's not stalked by paparazzi, and he's rarely written about in tabloids unless his name is linked to hers. And Ed says he's determined not to give the press any bad behavior to start writing about any time soon.
Speaking to the Canadian Press , Ed says he "always expected" to become a tabloid target, but notes "it never did [happen]," adding, "I think it's because I've never done anything interesting. Like, I've never been caught taking cocaine or having sex with a stripper...you know, things that end up ruining people in the press -- I haven't done these things. I haven't dated a famous person. I'm not that scandalous."
But that doesn't mean he wouldn't like to try at least one of those scandalous things.
"I wouldn't mind dating a celebrity -- that would be quite fun. You never know," he laughs. "As far as drugs and strippers...I'm a professional and I worked quite hard to get where I am...I think it would be silly to let that slip. So I'm going to always turn up on time, I'm going to always do my job, and I don't think the press can knock me on that."
However, Ed laughs, "If I ever end up bagging a hottie, then yeah, we'll see."
Copyright 2013 ABC News Radio