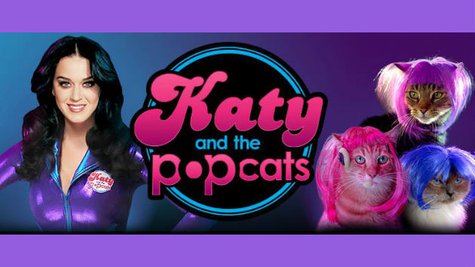 Katy Perry 's endorsement deal with Popchips apparently goes way, way beyond her appearing in ads for the snack crisps, or even creating new flavors. Katy's now cast herself as the spandex-clad, butt-kicking, cat-crazy star of a new digital short that's all about promoting the product.
In the short, called Katy & the Popcats , Katy is Katy Purry, who wears a skintight purple bodysuit and leads her team of actual cats -- wearing neon wigs -- in a fight against the evil villain Fat Cat, who wants everyone to eat his unhealthy, greasy, fried snacks instead of the healthier Popchips.
Katy and her all-cat team -- Lulu, Widget and Boodles -- drive around in a super-cool pink-and-blue van and monitor the activities of Fat Cat, who isn't a real cat: he's a puppet with a heavy German accent. When he tries to deliver his fatty snacks to an unsuspecting consumer, Katy and the Popcats leap into action.
After downing several bracing shots of, um, milk, Katy and the cats track Fat Cat to his lair, where they battle lasers and giant, distracting cat toys. But the villain's attempt to blow Katy up fails, and he ends up being buried in the rubble of his own lair, which explodes. At the end, though, we see Fat Cat's hand, er, paw rising up out of the rubble....as he lives to fight another day.
By the way, in the video, Fat Cat -- whose heavily-accented voice is provided by someone we never see -- conspicuously wears a flashy watch. You know who collects flashy watches? John Mayer . Just saying.
Copyright 2013 ABC News Radio