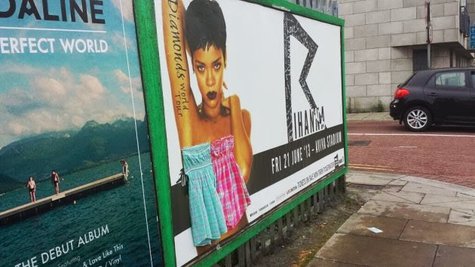 Rihanna has been selling out stadiums across Europe, but not everyone seems to be down with the billboards advertising her concerts. Some anonymous folks in Ireland have been doing their own censorship job on the billboards, apparently because they object to the singer's racy photo.
Britain's Metro reports that the tour billboards depict Ri-Ri in a pose similar to the one the strikes on the cover of her album Unapologetic : topless, but covered by her arm and the album's title. Someone in Dublin, though, took the cover-up a step farther, and has stapled some actual dresses over the singer's image, covering her chest area completely.
One billboard was obscured by a single dress, while another took two dresses to preserve Rihanna's modesty -- assuming Rihanna has any modesty to begin with.
Rihanna will perform at Dublin's Aviva Stadium on June 21.
Copyright 2013 ABC News Radio