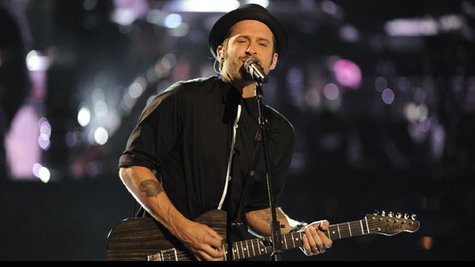 Tuesday night's Voice results show will see the return of three former finalists: season two's Tony Lucca , and Terry McDermott and Nicholas David from season three. And one of them says he absolutely the loves the fact that Christina Aguilera and Cee Lo Green were replaced this year by Shakira and Usher .
Team Adam's Tony Lucca, who had a prickly relationship with Christina, his former Mickey Mouse Club co-star, tells ABC News Radio, "I gotta say I'm a huge fan of Shakira and Usher. The show had a fresh energy to it [this season], it just moved really great, had a nice pace to it."
And while Tony doesn't think that fans will be "turned off" when Christina and Cee Lo return, he adds, "Personally, man, I really enjoyed the way Shakira and Usher contributed to the show, and I became a big fan of it this year."
As for who he's rooting for, Tony admits to ABC News Radio that he has a vested interest in one particular contestant winning it all.
"I actually am friends with Michelle Chamuel [from Team Usher]," he laughs. "We've done some work in the past together, and I kind of gave her the nudge, I said, you know, 'Definitely, if you get the chance, doing The Voice is well worth it.' So I'm glad she took my advice!"
He adds, "I think she's phenomenal and I definitely think she could take it, 'cause she's just that great." We'll find out Tuesday night if Michelle survives another cut to continue in the competition.
Tuesday night, Tony will debut a new single, "Never Going to Let You Go." This September, he'll be joining his former coach, Adam Levine , on the road when he opens for Maroon 5 on select dates on their Honda Civic Tour with Kelly Clarkson .
Copyright 2013 ABC News Radio