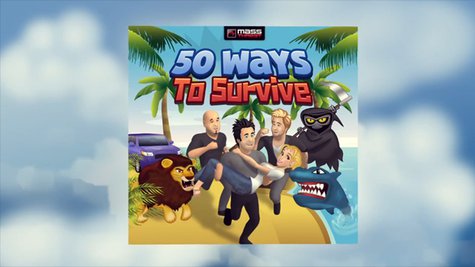 You've played the single -- now play the game. Train is releasing a brand-new videogame inspired by the video for their hit, "50 Ways to Say Goodbye."
A posting on the band's official homepage poses the question, "Who doesn't want to make sure Pat doesn't get eaten by a lion?" That's just one of the challenges when you play 50 Ways to Survive . A trailer for the game, which is due out June 25, shows Train frontman Pat Monahan rushing through a landscape inspired by the "50 Ways to Say Goodbye" video to rescue his girlfriend from the Grim Reaper. Along the way, he has to avoid lions, sharks and the Grim Reaper himself. No word on whether players also get to enjoy grocery shopping with David Hasselhoff .
Best of all, the proceeds from 50 Ways to Survive downloads go to Train's favorite charity, Family House , which describes itself as "a home away from home for families of children with cancer and other life-threatening illnesses by providing physical comfort and emotional support, free from financial concerns."
50 Ways to Survive will be available for iPhone, iPad and Android.
Copyright 2013 ABC News Radio