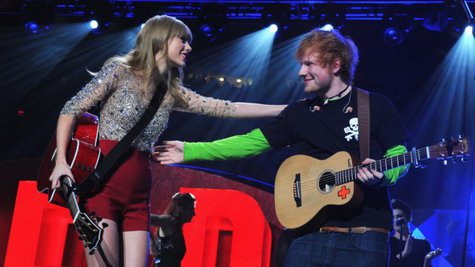 Taylor Swift and Ed Sheeran are close friends...but have they been that way since childhood? That's the initial impression fans will get when they start watching their new video for their duet, "Everything Has Changed."
In the clip, a young girl, who looks like a mini-Taylor, gets on a school bus and sits next to a little red-haired kid, who looks like a mini-Ed. They become fast friends, and we see them doing various school activities together, such as acting in a play, decorating cookies, watching an educational film, and eating lunch while perched on the jungle gym in the playground.
In one sweet scene, mini-Ed serenades min-Taylor with his guitar, while she looks at him adoringly. In another, he reads to her from Nicholas Sparks' The Notebook , and in yet another, they dance alone together in the empty school gym.
But wait -- the two adorable kids aren't Taylor and Ed after all. When the school day is done, the little girl and the little boy run to meet their respective parents, who are the real Taylor and Ed. They catch each others' eye, smile briefly, and walk away, each with their respective children.
In other Taylor news, she'll be a presenter at this year's MuchMusic Awards, which will air live from Toronto on Fuse Sunday, June 16.
Copyright 2013 ABC News Radio