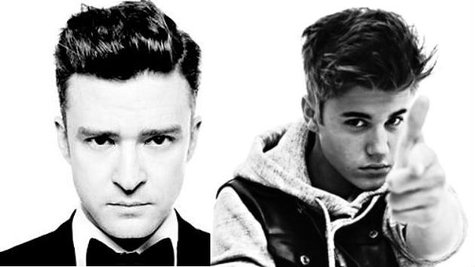 If your name is Justin and you're a pop music superstar, we'll see you in the club. Justins Bieber and Timberlake were both spotted partying all night long recently, but in two separate cities, in two separate clubs.
E! reports that Timberlake was seen keeping the party going 'til the wee wee hours Monday night in New York City. JT spent most of the night at Catch restaurant downtown until 4:30 a.m., when he decamped to a Chelsea club called Avenue, where he stayed until 6 a.m. His wife Jessica Biel wasn't around.
Justin also put on his "Suit & Tie" for a night out Sunday with three male buddies at another Chelsea club, 1-OAK, reports E!.
Meanwhile, E! reports , Justin Bieber celebrated the Miami Heat's win earlier this week by partying at Mansion nightclub in South Beach. He arrived with a huge entourage of pals -- including Lil' Twist and a number of girls -- at 3:45 a.m., and chilled at a VIP table, texting and sipping Evian water.
The singer, who was surrounded by "tons of girls," according to an observer, also watched Flo Rida perform, and closed the club down at 5 a.m.
Copyright 2013 ABC News Radio