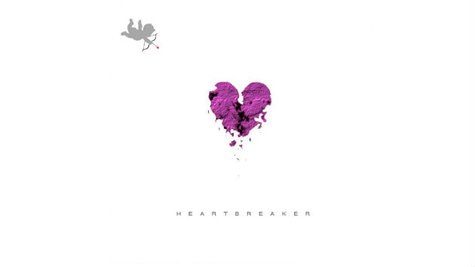 J ustin Bieber is dealing with all his bad press by doing what he always does: making music.
The singer took to Instagram to confirm the release of a new single called "Heartbreaker." The artwork for the song shows a crumbling purple heart, which looks like it's made out of powder, while cupid hovers nearby with an arrow. Justin also quotes what appears to be a lyric from the song, captioning the artwork "Don't tell me your [sic] my..." As for when we can hear this track, Justin would only say, " Coming Soon."
The song is presumably a release from Justin's "music journals," which he's tweeted he's been working on lately. According to Justin's manager, Scooter Braun , the journals are collections of songs that Justin's written at each stop on his Believe tour.
In other Justin news, the Chicago Sun-Times reports that the singer is thinking of leaving his gated Calabasas, California neighborhood following several unpleasant run-ins with his neighbors. Former NFL star Keyshawn Johnson is, of course, steaming over Justin allegedly turning the area into his own personal drag strip. Then there was the incident earlier this year when Justin was accused of spitting on another neighbor.
A source tells the paper, " For most of the people there, it would be good riddance."
Regarding the speeding incident, Justin has now likened the accusations that he was driving to the accusations that he fathered at least one woman's child. After his pal, Odd Future rapper Tyler the Creator, took to Twitter to say that he, and not Justin, was behind the wheel of Justin's Ferrari when it was seen speeding through the neighborhood, Justin responded , "all good buddy. i deal with this everyday. thanks though. the baby aint mine either."
Copyright 2013 ABC News Radio