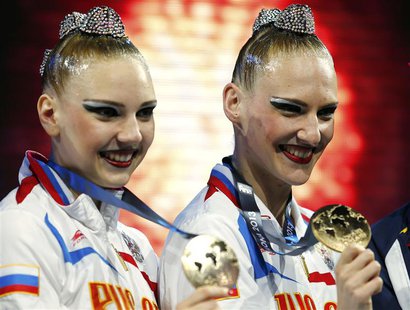 BARCELONA (Reuters) - Russia's Svetlana Romashina secured her fourth gold of the world championships and her 15th major title when she teamed up with Svetlana Kolesnichenko to win the synchronized swimming free duet on Thursday.
Opting for an ear-bursting Metallica number, the Russian pair amassed 97.680 points for their routine, easily beating Chinese twins Jiang Tingting and Jiang Wenwen into second on 95.350 and repeating their success from Sunday's technical duet.
Local favorites Ona Carbonell and Margalida Crespi were third for Spain with 94.990.
Romashina, who won both solo golds in Barcelona and now owns 12 world championship and three Olympic titles, said the idea to use the Metallica song had come from coach Tatiana Dachenko.
"I was a little bit surprised at the beginning," the 24-year-old told reporters. "But when we started creating the program I felt it was interesting and very quickly we realised that this programme was going to be good for us," she added.
(Writing by Iain Rogers in Madrid; editing by Ken Ferris)