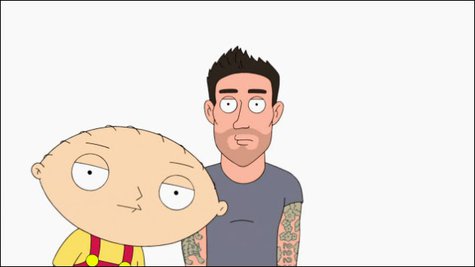 Mariah Carey may not be a judge on American Idol anymore, but she still has a good relationship with Fox, apparently: she'll be lending her voice to an upcoming episode of the network's animated series American Dad.
According to Zap2It.com , Mariah is just one of many guest voices this season, along with Zooey Deschanel , Stanley Tucci and Olivia Wilde . The show's new season debuts this September. It's not clear if Mariah will play herself or a different character.
Meanwhile, Maroon 5 's Adam Levine , who's generally seen on NBC's The Voice , will also journey to Fox for a guest shot on the new season of Family Guy , according to Entertainment Weekly .
The magazine's website has posted a five-minute preview of the animated series' new season, and in one brief segment, Stewie threatens Brian the dog with his "Adam Levine dog whistle." Next, we see a cartoon representation of Adam, saying, "Hey, my voice isn't that high!" to which Stewie replies, "It is. It is, though." It's not known if that's Adam's only appearance on the show.
Copyright 2013 ABC News Radio