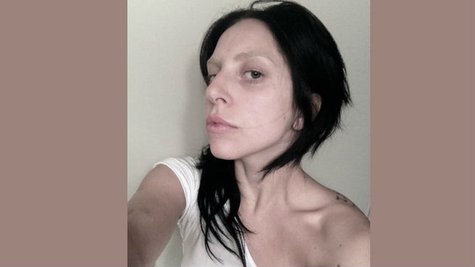 Lady Gaga's much-anticipated new single from her forthcoming album ARTPOP is due August 19, but in a new posting on her social networking site LittleMonsters.com , the star admits she's having a hard time handing over the tune so the world can hear it.
On the site, Gaga posted a photo of herself with no makeup, dressed down in a simple white t-shirt and brunette locks. She writes, "ARTPOP as they pry the single from my bleeding fingers. its a scary thing to revisit those things underneath, the pain in your past. but all I found was raw passion. I thought I was destroyed inside. im just ready to fight. start the music."
The picture is definitely less provocative that one that surfaced over the weekend, showing a blonde, wild-haired Mother Monster stark naked, with her naughty bits covered by her hands. That photo was posted on the Tumblr account of the design team Inez & Vinoodh, who wrote, "Get ready world for our pics of @ladygaga for @vmagazine !kisses iv #artpop."
Inez & Vinoodh, you may recall, also collaborated with Gaga on the series of short " fashion films " she made for her song "You and I."
Also over the weekend, a bit of video leaked showing a brunette Gaga licking what looks like a mannequin's fingers.