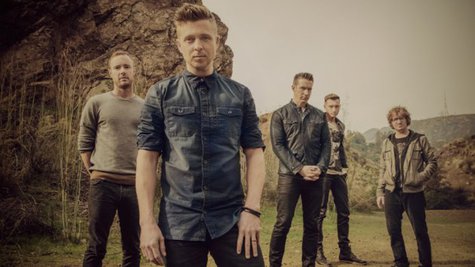 OneRepublic 's summer tour in support of their current album Native kicks off Friday in Tulsa, Oklahoma, and the band says that fans can expect something really special from them this time around: an eye-popping spectacle to go along with their music.
"We were in Vegas and I went to Cirque du Soleil -- one of the five or 50 shows they have -- for like the fourth or fifth time," recalls OneRepublic frontman Ryan Tedder, explaining why the band decided to focus on their stage presentation. "And I thought, 'OK, in a world where you can pay money to see this, our asses need to step it up, and every band in the world has to step it up.'"
Guitarist Zach Filkins sums up the band's goal as bringing "a little bit more of a show, and....more value too."
"I mean, if people are spending their hard-earned money to go see a show, that means a lot to us," Zach says. "And I think it's time for us to grow that experience for them a little bit." He adds, "So we're gonna do some new things, some new lighting things, just theatrics and insanity -- but something to really move with the music so that it becomes a bigger experience for everyone, even ourselves."
Ryan says that it's not just OneRepublic who've been influenced by Cirque du Soleil: he's noticed other artists trying to up their game as well.
"I think that's partly why Pink does what she does," says Ryan, referring to the pop star's incredible onstage acrobatics. "She puts on the most fantastical show. And I've watched Coldplay's live set and I mean, you can see they're spending a huge chunk of the money they're making on that show. And that where the world's at."
Ultimately, Ryan says, it's all about giving fans more bang for their buck.
"If you pay 40 bucks, then we're gonna give you a hundred and forty dollar show," he says.

The OneRepublic headlining tour will run through August 18; on August 29, a new leg will start, featuring the band on a co-headlining bill with Sara Bareilles.
Copyright 2013 ABC News Radio