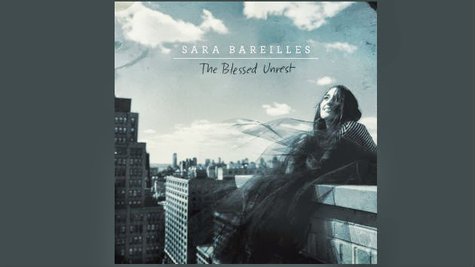 Sara Bareilles releases her third album The Blessed Unrest on Tuesday, and she says the album's first single, "Brave," really describes her approach to the entire album. She says she spent the whole past year making some big changes in her life, including moving from California to New York City, and the album reflects that.
"I was feeling really stagnant last year, personally and professionally, and I really spent a lot of time and a lot of work kind of breaking down those boundaries, and doing a lot of introspection on what I was doing right, and where my hurdles were personally," Sara tells ABC News Radio. "It's part of what propelled me toward moving to New York...I was really trying to lean into the scary parts of my life and I've definitely had a lot of personal growth because of it."
That's also what led her to call the album The Blessed Unrest. Sara says the title is taken from a quote from the legendary choreographer, Martha Graham: "No artist is pleased. [There is] no satisfaction whatever at any time. There is only a queer divine dissatisfaction, a blessed unrest that keeps us marching and makes us more alive than the others."
Sara says she liked what Graham says about "the fact that we're dissatisfied with where we've been is part of what brings us forward into the next piece of art."
Her new home of New York City also had a lot to do with inspiring The Blessed Unrest, according to Sara. "There are so many people and stories sort of swirling around you at all times," she says of the Big Apple. "I was coming from L.A. where I have a really sweet house, but it's a very quiet lifestyle and I think I was craving, creatively, a way to plug into some sort of network of electricity that I wasn't getting in L.A."
In addition to making these changes in her personal life, Sara also made changes artistically: the new album marks the first time she really collaborated with other songwriters. She and fun. guitarist Jack Antonoff co-wrote "Brave," for example. "Co-writing is not my first love. And it is scary," Sara tells ABC News Radio. "It's, definitely, it's vulnerable, it's the most personal thing I have to share with someone, but luckily I felt like I found really compassionate, kind partners."
Sara's already gone out on a solo acoustic tour -- another "scary" thing she wanted to tackle -- but she'll head back on the road in August to promote the new album as part of a co-headlining trek with OneRepublic . She's also looking forward to one of her most famous fans getting a listen to her new album: Michelle Obama . When asked if she would be sending an advance copy of the disc to FLOTUS, Sara laughed, "Yeah, actually I want to get her to hear it!"
Copyright 2013 ABC News Radio