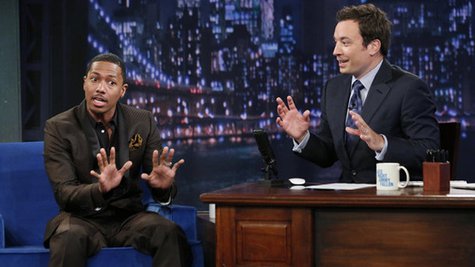 It's already known that Mariah Carey isn't letting a dislocated shoulder and fractured rib slow her down: she performed Saturday night in New York City's Central Park at the 2013 MLB All-Star Charity concert wearing a sling. However, her husband Nick Cannon told Jimmy Fallon Monday night that Carey actually got back to work even sooner than that: the very night she was injured, in fact.
During an appearance on Late Night with Jimmy Fallon , Cannon told the host, "This is how strong my wife is: as soon as she fell, and like everyone was frozen, there's Mariah on the ground. And she was like, 'Pop it back in so we can get the next shot! Let's go.'"
Mariah's publicist has said the singer injured herself July 7 while filming a video for the remix of "#Beautiful." Cannon directed the video.
Eventually, Cannon says they convinced Carey go to the hospital, but said the break was short-lived. Cannon told Fallon, "True story: we went to the hospital, they put her under, put her shoulder back in, you know, bandaged her all up. She came and did like two more hours, until like 3 o'clock in the morning on the video set."
Copyright 2013 ABC News Radio