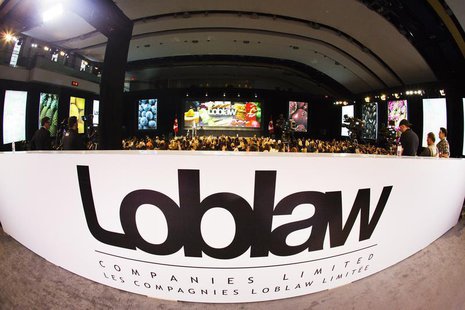 By Solarina Ho and Bhaswati Mukhopadhyay
(Reuters) - Loblaw Cos Ltd, Canada's largest food retailer, will buy Shoppers Drug Mart Corp, the country's biggest pharmacy chain, for C$12.4 billion ($11.9 billion) to bulk up against intensifying competition from U.S. retail giants as well as from consolidating local rivals.
News of the tie-up, Canada's biggest merger and acquisition deal so far this year, sent Shoppers shares soaring 26 percent and Loblaw shares up 8 percent on the Toronto Stock Exchange on Monday.
By acquiring Shoppers, Loblaw said it will create a combined retail operation with more than C$42 billion in annual revenue. The move also gives it a foothold in the growing small urban store sector.
The deal is more than double the size of the one that rival grocer Empire Co Ltd announced a month ago, when it said it was acquiring Safeway Inc's Canadian assets for $5.7 billion. That deal cemented Empire's position as Canada's No. 2 grocer after Loblaw.
The consolidation has been spurred by competition from big U.S. retailers such as Target Corp and Wal-Mart Stores Inc, which have been ramping up expansion in Canada and looking for ways to reach more customers in tighter urban locations. Target opened its first 24 Canadian stores in March and plans to have 124 stores across the country by yearend.
"We think the deal was a long time coming. We think no one should be surprised, Shoppers Drug Mart was a sitting duck," said Barry Schwartz, a portfolio manager at Baskin Financial Services, which owns some 140,000 shares of Shoppers. "I think the Empire-Safeway transaction lit a fire under a Loblaws to make a deal."
REGULATORS WILL SCRUTINIZE
The agreement could face regulatory challenges, however, even though the companies called its timing "optimal" from a regulatory standpoint.
Canada's Competition Bureau said in a statement it will review the proposal, but could not specify how long it will take. The companies said the deal is expected to close within six or seven months.
Executives said the businesses do not substantially overlap and that they do not foresee any substantial sales of existing assets to meet regulatory requirements. The two companies noted the transaction would not significantly change market share in their respective food and pharmacy businesses.
"We believe the Canadian retail space is as competitive - if not more so - than any place in the world," Galen Weston, executive chairman of Loblaw, told reporters.
"You've got ... the most compelling and aggressive international retailers in mass merchandising space in Canada, growing this year at a rate that is faster than at any time in Canadian history. So the starting point is a very competitive market."
Loblaw's offer of C$61.54 in cash and stock represents a premium of 27 percent to Shoppers Drug Mart's Friday closing price on the Toronto Stock Exchange. The companies said there are no plans to close any Shoppers Drug Mart stores.
COST SAVINGS SEEN
Shoppers Drug Mart, which turned 50 last year, owns about 1,300 drug stores and 65 Shoppers Home Health Care stores across Canada. Like Target and Wal-Mart, the company also sells beauty products.
The company changed hands a number of times until it went public in 2001. Previous owners have included Imasco, a unit of Imperial Tobacco, and a consortium of private-equity firms including KKR and Bain Capital.
Shareholders of Shoppers Drug Mart will have the option to either receive C$61.54 in cash or 1.29417 Loblaw common shares plus 1 Canadian cent in cash for each share held. The maximum amount of cash to be paid by Loblaw will be about C$6.7 billion.
Shoppers Drug Mart shareholders will own about 29 percent of the combined company. Shoppers Drug Mart will retain its name and brand and will operate as a separate division of Loblaw.
The combination is expected to yield annual cost savings of C$300 million by the third year, Loblaw said.
George Weston Ltd, Loblaw's biggest shareholder, will buy an additional C$500 million in Loblaw shares to help finance a the deal. George Weston now owns about 62 percent of Loblaw.
Loblaw said it would finance the cash portion of the deal with cash on hand and committed bank loans.
BofA Merrill Lynch acted as financial adviser to Loblaw, while Torys LLP was its legal counsel.
RBC Capital Markets advised Shoppers Drug Mart on the deal. Osler, Hoskin & Harcourt LLP was its legal counsel.
Loblaw shares have climbed 47 percent in the past year, while Shoppers shares have risen 17 percent.
($1=$1.04 Canadian)
(Additional reporting by Peter N. Henderson in Toronto and Sayantani Ghosh in Bangalore; Editing by Jeffrey Hodgson and Peter Galloway)