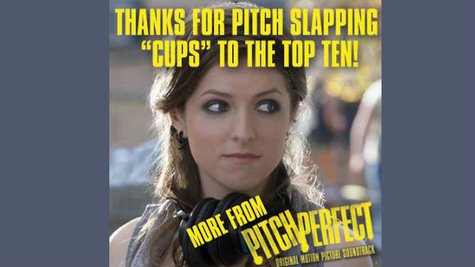 Musicians often move into the world of acting, but it's not always so easy for actors and actresses to go the other way. Here's one success story, though: Oscar-nominated actress Anna Kendrick has just scored her first top-10 hit.
Anna, who was nominated for an Academy Award for her role in the 2009 George Clooney movie Up in the Air, is also one of the stars of the hit movie comedy Pitch Perfect . The song she performs on the movie's soundtrack, "Cups (When I'm Gone)," has just leaped from #21 to #10 on Billboard's Digital Songs chart. It's also top 20 on the Billboard Hot 100.
According to Billboard , the jump is due to the fact that Pitch Perfect , about a female college a cappella troupe, just debuted on HBO on June 22. In addition, the film's official Facebook page has been encouraging fans to purchase the song and drive it into the top 10. Sales of the soundtrack itself have increased by 67% in the last week.
"Cups" has had a long history. It's based on an old folk song from the thirties called "When I'm Gone." The "Cups" version was originally recorded by the British band Lulu and the Lampshades . Then, a girl named Anna Burden did a popular YouTube cover . This is the version that Anna Kendrick learned and performed as her character , Beca Mitchell, in Pitch Perfect .
Copyright 2013 ABC News Radio