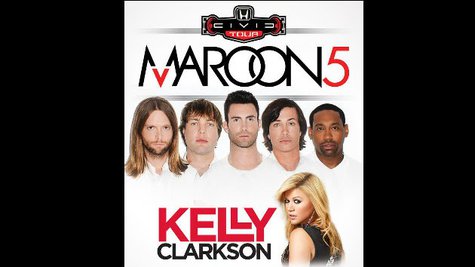 The Honda Civic Tour has been around since 2001 and has featured a variety of rock and pop artists over the years. But this year's Honda Civic Tour, with Kelly Clarkson and Maroon 5 sharing the bill, has proven to be the best-selling one in history, the car company has just announced.
This means Maroon 5 has actually outsold themselves, since they headlined the tour in 2005. It's no surprise, though, considering the band's career is super-hot right now.
As part of the tour, Maroon 5 is giving fans a chance to win a customized, autographed Honda Civic, as well as a Honda motorcycle. Both were designed by the group, and singer Adam Levine and guitarist James Valentine have personally signed the car. "The goal of the custom Civic and motorcycle was to capture the Maroon 5 iconography that expresses both the band's essence and live experience and channel it into a custom design," Adam said in a statement.
You can enter to win the car by visiting Honda.us/M5Civic . If you want the motorcycle, visit Honda.us/M5Bike .
The Honda Civic tour kicks off August 1 in St. Louis, Missouri.
Copyright 2013 ABC News Radio