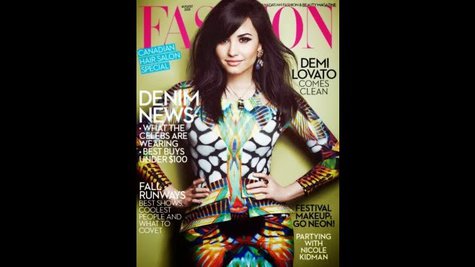 D emi Lovato isn't even 21 yet -- she'll hit that milestone on August 20 -- but the star has obviously experienced her share of ups and downs in her life. But these days, she says she has a new approach to life, including when it comes to romance.
Speaking to the Canadian magazine FASHION for its August issue, Demi admits, "I used to be a man-eater and a heartbreaker. It was OK to be that when I was young and experimenting, but I don't like to be that anymore."
The singer, who in the past dated Wilmer Valderrama and Joe Jonas , tells the magazine, "When I was younger, guys wanted to jump into a serious relationship really fast, and I had to slam on the brakes and say, 'Dude, I'm 17; chill out.' Now, [long-term] relationships make more sense to me."
Demi also admits, in a roundabout way, that some of her past relationships haven't been very healthy. "I wrote a song called 'I Hate You, Don't Leave Me' when I was reading a book on borderline personality disorder with the same title," she tells the magazine. "It resonated with relationships I've been in and a few of the relationships that I see."
Asked to comment on the attention paid to the relationships of Taylor Swift , another young singer with a high-profile romantic life, Demi says, "It's not her fault. It's part of our lives, and everything becomes fair game. For someone like Taylor Swift, it doesn't hurt that the guys she's dated have been really attractive and famous as well."
The August issue of FASHION magazine is available starting July 8.
Copyright 2013 ABC News Radio