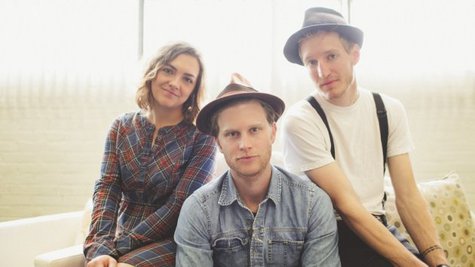 The Lumineers are currently the only music act who can say that they're featured on two albums in the Billboard top five.
Fueled by their recent appearance on Saturday Night Live , the band's self-titled album, which includes their hit "Ho Hey," has jumped to #2 on the Billboard album chart . It's a new chart high for the disc, which was released way back in April of 2012.
Meanwhile, the 2013 Grammy Nominees album has debuted at #4, and The Lumineers are one of the groups included on it, thanks to their nomination for Best New Artist. The Lumineers will perform on the Grammy telecast, which airs February 10 on CBS.
In other Lumineers news, "Ho Hey" has popped up in an unlikely place. E! Online has posted a video of ex- 'N SYNC member JC Chasez serenading the sisters of the Delta Delta Delta sorority at USC with the tune. He's surrounded by a bunch of guys in suits, some of whom are holding roses, and he's accompanied by an acoustic guitar. It's not clear under what circumstances the performance took place.
Copyright 2013 ABC News Radio