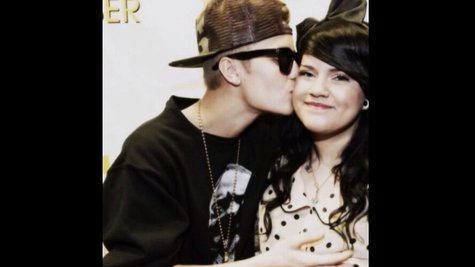 Just because Justin Bieber broke up with Selena Gomez doesn't mean he's looking for a cheap thrill from any female fan he comes across. His rep is denying reports that, in a photo with a young Belieber that's gone viral, he's grabbing the girl's boob -- and the owner of the boob also denies it.
In the photo that the fan, named Jocelyn, posted on her Twitter account, Justin is kissing her on the cheek, and his hand is hovering very close to her breast; it appears as though he is cupping it. But the fan insists that Justin was not doing so, writing on her Twitter account,"IM DYING HAHAHAHHAHA IT LOOKS LIKE JUSTIN'S TOUCHING MY BOOB IN THE PICTURE AHAHAHAHHA I CANT."
She went on to explain that she was posing with Justin because she had sneaked into his meet-and-greet at a Miami concert. When people continued to rave over how lucky she was that Justin was touching her breast, she wrote , "Let me clear this up for people who can't read, NO I did NOT ask Justin to touch my boobs... I whispered that it was my 2nd time sneaking in & he kissed me on the cheek in the picture & it looks like his hand is there."
Justin's rep confirms the story, telling E! Online , "That definitely did not happen. He was pulling away from her."
As for Justin, it's not clear if he was referring to "Boob-gate," but he did tweet on Tuesday, "alot of bs has been out there lately...seems like it never stops. answering for myself thru music."
Copyright 2013 ABC News Radio