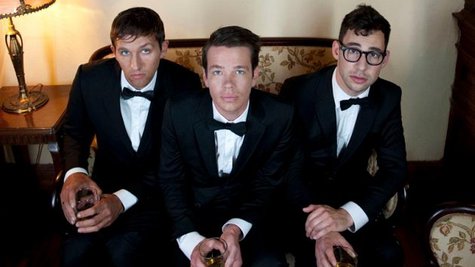 A week ago, fun. found themselves rocking the house at President Obama 's Inaugural Ball, along with acts like Alicia Keys and Stevie Wonder . And though the group has achieved some pretty cool things over the past year, including receiving six Grammy nominations, guitarist Jack Antonoff says that particular experience isn't something they could ever have ever imagined.
"When you play music your whole life, there's a spectrum of goals, like Grammys or selling out big shows," Jack tells ABC News Radio. "But playing the Inaugural Ball for an incredible president that you idolize is not even in the realm of things that you hope for when you're a kid. It's just, like, completely...out of that stratosphere. It's nuts!"
fun. had to interrupt their tour rehearsals to fly to Washington, D.C. for that performance, but now they're officially back out on the road again. Jack says he and his band mates -- singer Nate Ruess and multi-instrumentalist Andrew Dost -- are incredibly proud of the new production they've put together for the fans.
"The three of us have worked on the stage show for two months," Jack says. "Probably twenty emails every day for the past two months between the three of us and our production people getting this thing to perfection, and it just paid off so much."
The guitarist, who's dating Girls star Lena Dunham , says he's not only thrilled that the band is playing to even bigger crowds this time around, but also that the overall vibe of the audience has remained the same.
"[It's amazing] that this audience can grow and become so massive, and be just as rabid and just as excited," Jack tells ABC News Radio. "A room that would once hold a hundred diehard fans that knew every word to every song is now a room of five thousand fans -- [and it has] the exact same feeling."
On this current tour, fun. is, of course, playing their new single "Carry On," and Jack says it's the most important song for him, personally, because of its message.
"Everyone can relate to the concept: you're pushing forward and carrying on and moving on...and those are my favorite songs," he says. "The songs that you listen to when you're driving home at one in the morning and you're alone and you're singing on top of your lungs, and you're reflecting on everything that's going on in your life in that moment."
He adds, "The idea that that can happen -- for one person -- from our song, or a million [people] or anything, is why we set out to do this in the first place. We want to give back the inspiration that we got from our favorite artists, and 'Carry On,' to me, is a song that has that power."
fun. will take a break from their tour to attend the Grammy Awards on February 10 -- not only are they nominated for six trophies, but they're also performing on the telecast.
Copyright 2013 ABC News Radio