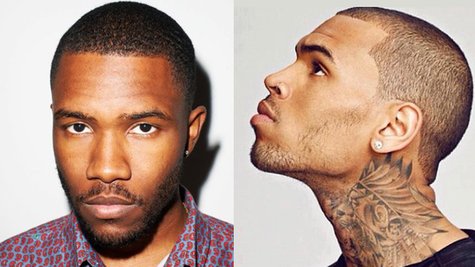 Chris Brown vs. Drake ? That's yesterday's news. Chris' latest alleged feud is with Frank Ocean . TMZ.com reports the two were involved in a fight at a Los Angeles-area studio Sunday night. What's more, now sheriff's deputies are investigating Chris for an alleged battery charge.
It all began when Chris reportedly was at Westlake Recording Studio to listen to an artist he represents. Sources close to Chris say that when Chris attempted to leave the studio, he was allegedly prevented from doing so by Frank and Frank's crew. Frank reportedly told Chris, "This is my studio, this is my parking spot."
Chris then tried to shake Frank's hand, TMZ reports, but was allegedly attacked by one of Frank's posse members. A pal of Chris's retaliated, and then Frank and Chris had a physical altercation.
TMZ.com further reports that when authorities arrived on the scene, Chris had already left the studio but officers did get to interview Frank. Now, according to a statement released early Monday morning by the Los Angeles County Sheriff's Department, deputies from the West Hollywood Station are investigating Brown for alleged battery.
According to the LASD statement, "Deputies responded to a call of six males fighting at the 7200 block of Santa Monica Boulevard, West Hollywood. Upon their arrival, deputies talked to witnesses who stated that Chris Brown and the victim were involved in an altercation over a parking space. The altercation allegedly led to Chris Brown punching the victim. After a brief fight, the parties were separated."
While the LASD statement doesn't specifically state the location of the reported altercation, Westlake Recording Studio is located at 7265 Santa Monica Boulevard.
The statement concludes, "Chris Brown and his entourage left the location prior to the arrival of deputies. The investigation is on-going and investigators will contact Chris Brown at a later time."
For his part, Frank tweeted early Monday morning, "Got jumped by Chris and a couple guys," followed by , "cut my finger now I can't play w two hands at the grammys."
Copyright 2013 ABC News Radio