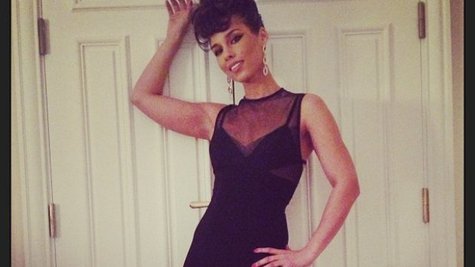 Happy Birthday, Alicia Keys ! The singer, songwriter, producer and philanthropist celebrates her 32nd birthday on Friday, while she's overseas promoting her Girl on Fire album in Europe.
The birthday love started on Thursday night in Madrid, where Alicia performed. She shared a photo of herself onstage at a packed venue, writing, "Awwww!!!! All These people just sang me happy birthday to help bring in my day!!! Such a beautiful memory to have of Madrid!! Thank u thank u Spain!!"
Next up, Alicia will perform in London on Saturday. She'll have to return to the U.S. soon though, so she can prepare for her upcoming performance at this year's Super Bowl in New Orleans. Alicia will sing the national anthem at the big game, taking place Feb. 3. It's the star's third time appearing at the Super Bowl -- and that's more than any other artist, according to the NFL.
Alicia's been bringing the heat ever since she announced the release of Girl on Fire last year. She's been spreading the word about the album non-stop, and is slated to kick off her Set the World on Fire tour this March. In the past few months, Alicia's helped raise millions of dollars for HIV/AIDS treatment with her Black Ball REDUX event. She also performed during the Inaugural events in Washington D.C. and was on hand for the Sundance Film Festival premiere of The Inevitable Defeat of Mister and Pete , which she executive produced.
And there's more to come. Alicia's husband, Swizz Beatz , told ABC News Radio that he and Alicia have new projects on the way. "Oh, we got a couple of new ones coming out. We got like three new ones coming out," he said. "She has some interesting announcements starting [on] her birthday."
Copyright 2013 ABC News Radio