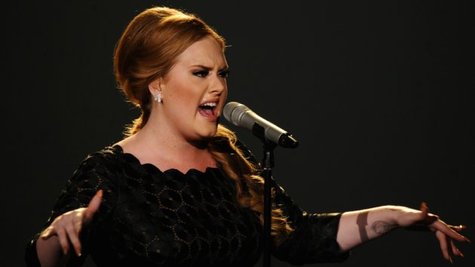 Here's why Beyonce 's alleged lip-synching at the presidential inauguration earlier this week isn't such a shock: performers at high profile events nearly always pre-record a version in advance, just in case something goes wrong. Want proof? Even Adele plans to do it for her upcoming Academy Awards performance of "Skyfall."
An Academy insider tells the Chicago Sun-Times that it's "merely a safety net for the show. Just in case something goes wrong, there will be that pre-recorded track to have for a fall-back option -- but only if needed." Adds the insider, "Adele fully expects to perform the song live, and will have plenty of rehearsal time to prepare."
This will mark Adele's first public performance of "Skyfall," and her first U.S. TV performance since the Grammys last year. The song is nominated for an Oscar for Best Original Song from a Motion Picture.
Reportedly, Beyonce's lack of rehearsal time with the Marine Corp band is what caused her to decide to go with the pre-recorded track at the inauguration.
Copyright 2013 ABC News Radio