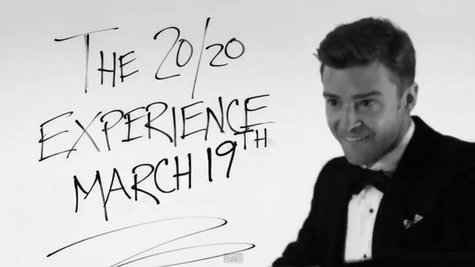 We've heard the comeback single "Suit & Tie," we've seen the lyric video...and now that we've seen the video, we know when Justin Timberlake 's long-awaited new album The 20/20 Experience is coming out. What, you didn't see it? Well, don't worry -- it's pretty much a "blink and you'll miss it" moment.
At the end of the mostly black-and-white video, Justin takes a hammer and smashes a piece of glass, on which is scrawled the message " The 20/20 Experience Coming Soon." But just for a split second, the words "coming soon" are replaced by the words "March 19." It's at 5:19 into the video, if you want to go back and watch it again.
The sneakiness of the revelation is in keeping with Justin's approach to this entire project. You'll recall he announced the new music with a mysterious countdown clock on a website, and until the moment "Suit & Tie" was revealed, nobody knew exactly what it was that he was releasing or announcing.
The 20/20 Experience will be Justin's first disc since 2006's FutureSex/LoveSounds . "Suit & Tie" is currently #4 on the Billboard Hot 100.
A screen grab of the image in the video can be seen here .
Copyright 2013 ABC News Radio