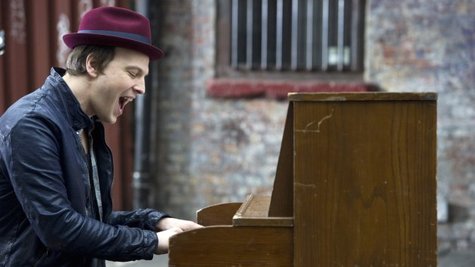 Gavin DeGraw has teamed with Folgers Coffee to promote the company's annual contest, which aims to find an aspiring musician to re-record its iconic jingle, "The best part of wakin' up/is Folger's in your cup."
"The Folgers jingle has continued to evolve and stay relevant because it's a message we all understand and recognize," says Gavin, adding, "I'm really excited to...invite aspiring musicians to share their own rendition [of the jingle] and pursue their passion. This is the third year Folger's has run the contest; in the past, the jingle has also been reinterpreted by singer Aaron Neville and country stars Rascal Flatts .
The contest opened on Tuesday, and interested participants have until March 6 to submit their versions of the jingle for a chance to win $25,000. Contest participants will be whittled down to a top 10 sometime between May 15 through June 19. Then the top 10 finalists will be posted on the website for the public's vote; the winner will be announced on or around June 26.
You can enter the contest as a solo artist, or in in groups of six or fewer participants. You've got to be at least 18, and a legal resident of U.S. Entrants must send an original video that will be judged on creativity, originality, musical performance and adherence to contest rules, which are posted at Folgers.com/jingle .
Copyright 2013 ABC News Radio