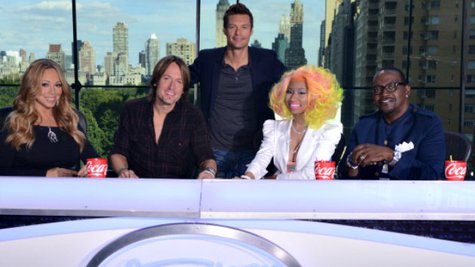 It was the meltdown seen around the world. Nicki Minaj 's rant on the set of American Idol made headlines this past summer, and Wednesday night's Idol broadcast from the Charlotte, NC auditions revealed what got Nicki so upset.
It all started as the judges were listening to Idol hopeful Summer Cunningham try out with Bill Withers ' "Lean on Me." The judges all liked the performance, and judge Randy Jackson told her she should sing country. Summer told the judges she'd "tried the country thing" and was now trying to go more R&B. Country star judge Keith Urban didn't know what to make of her statement about trying out country, and fellow judge Mariah Carey thought Summer had a good country voice too.
Nicki clearly didn't like all the debate about where Summer's voice fell in the spectrum between R&B and country. She accused Randy and Mariah of trying to put the singers in specific genres, and everyone in the panel started talking over each other, defending their positions. Keith interrupted and confirmed that Summer was going to Hollywood, but the argument was far from over.
After Randy brought up his 30 years experience in the music industry, Nicki took offense and said, "I'm sorry. I can't help her. Let me get off the f***ing panel." She then walked off the set.
The specific footage shown on the leaked tape of Nicki's full-on meltdown that set the internet on fire this past summer was not shown on Wednesday night's show though. The rest of the auditions weren't nearly as dramatic either. Here's what happened:
The Good
Brian Rittenberry 's wife survived a very serious bout with cancer a few years ago, and she was by his side as he walked towards the audition room. Brian tried out with full-throated, slightly country take on the Beatles ' "Let It Be," and the judges were wowed. Mariah was pleasantly surprised, and Keith said Brian has a "husky and cool" voice. Brian is headed to Hollywood.
Jimmy Smith named Keith as a big influence, and he tried with country group Rascal Flatts ' hit "Bless the Broken Road." Nicki thought Jimmy was "poppin'" and "mad fly," while Keith said he could tell Jimmy's personality through his voice. Mariah said he had something "incredibly special and unique." Jimmy's on to the next round.
Randy rode a school bus to surprise Isabel Gonzalez at her high school with the news she'd been nominated for an Idol audition slot. She tried out with "Nothing Could Ever Change This Love" by Sam Cooke , and the judges were really impressed. Nicki was head-over-heels for Isabel, and Keith called her a natural. Isabel is on her way to Hollywood.
Taisha Bethea has sung in a rock band for the past four years, but she sang Johnny Cash 's "Folsom Prison Blues" to kick off her audition. Taisha then showed off more of a rock edge, singing Alanis Morissette 's "You Oughta Know." Mariah said she was "interesting" and "different," and Keith thought she might be more suited to a band performance. Nicki and Keith voted yes, but Randy and Mariah ended up saying no. Keith had the deciding vote and sent Taisha on to Hollywood.
Brandy Hamilton was the first contestant on the second day after Nicki's big breakdown. She tried out with Etta James ' "All I Could Do Was Cry," and Randy said she lit up the room. Randy wanted to hear more from Brandy, and Nicki said Brandy made her really feel the song. Mariah was a big fan too, and Brandy's on to Hollywood. As Brandy left, she told the judges, "Please don't fight. It makes us sad."
Twenty-two-year-old Ashley Smith dressed like a grandmother in a big pink top and pearls, and she worked the holding room before the audition, talking to anyone who would listen. Nicki nicknamed Ashley "Blondie" because of her blonde hair, and she tried out with Carrie Underwood 's "Cowboy Casanova." Despite her odd look and overpowering personality, Ashley could actually sing really well. Nicki was a big fan, and Mariah enjoyed it too. Keith was captivated as well. Ashley is on to Hollywood.
Janelle Arthur portrayed a young Dolly Parton at Dolly's Tennessee theme park as a kid, but she was all grown up auditioning with a medley of Keith's songs "Where the Blacktop Ends" and "Walk in the Country." Keith loved it, and Nicki said Janelle already seemed like a star. Mariah loved Janelle's voice and demeanor. You'll see more of Janelle in the next round.
Rodney Barber is known as "The Voice of Charlotte" since he sings on the streets of the city every day. Rodney was homeless a few years back, and now he gives some of the money he makes singing to those still on the streets. Rodney tried out with Edwin McCain 's "I'll Be," and Mariah thought he was fantastic. Keith said Rodney had a "crazy big" voice, and Nicki was inspired by his story. Rodney is going from Charlotte to Hollywood.
Candice Glover made it to Hollywood last season, but she didn't make it further. Candice was back this year with a renewed sense of self, and she wowed the judges with a soulful performance of Duffy 's "Syrup & Honey." Randy and Mariah gave Candice a standing ovation, and Mariah said she wanted to listen to Candice for the rest of the day. Nicki said she was so obsessed with Candice she wanted to skin her and wear her. It was all-around yeses for Candice.
Ja'Bria Barber told the judges about her passion for frog hunting and said the frog legs tasted like chicken. Nicki nicknamed Ja'Bria "Frog Killer" before she tried out with Bonnie Raitt 's version of "Pride and Joy." Mariah liked her song choice and vocal performance, and Randy liked Ja'Bria's spunk. Nicki called her a "big piece of cutie pie." It's on to Hollywood for Ja'Bria.
Seretha Guinn has seen her boyfriend through an intense accident that nearly cost him his life in the past year. Her boyfriend didn't know she was at the auditions, and she hoped to surprise him with the news she made it to Hollywood. Seretha brought her young daughter London into the audition. It turns out London is a huge fan of Nicki. She even presented NIcki with a stuffed, pink bear. Seretha tried out a reworked version of The Fresh Prince of Bel-Air theme song, and the judges thought it was really "fresh." Seretha went on to sing Trisha Yearwood 's "How Do I Live," and Nicki teared up as she told Seretha it was "incredible." Mariah loved Seretha's personality too. She's going on to Hollywood.
The Bad
Naomi Morris rocked a fashion-forward look wearing her own custom-made, somewhat racy fashions in the audition room. She tried out with the Aretha Franklin classic "Respect," and it was instantly clear Naomi should stick to designing clothes. Nicki encouraged Naomi to relax before she launched into her second choice, The Temptations ' "Ain't Too Proud to Beg." No amount of relaxation could help Naomi's lack of vocal talent, and the judges really encouraged her to keep pursuing fashion over music.
Brad Harris seemed a little off, but he thought American Idol was part of a bigger plan for his life. Brad stumbled through a really bizarre performance of "A Whole New World" from Disney's Aladdin . Randy told him it wasn't good, and the judges told him "no" in unison. The judges even turned Brad down when he asked them for a handshake.
Are You Kidding?
Joel Nemoyer was tragically awkward as he showed off how he could sing better while lying down on the floor. He demonstrated this technique for the judges during his audition with Michael Buble 's version of "Feelin' Good." Keith and Mariah tried to let him down easy, but Randy simply said "never." Joel promised to get more training and try out again later.
Matthew Muse started singing in karaoke clubs and said he liked to communicate with his eyes while he sang. Matthew tried out with Brad Paisley 's "When I Get Where I'm Going," but he felt no need to commit to a key. Matthew jumped all over the place vocally during his audition while he acted out the lyrics with dramatic hand movements. Keith said Brad should really use some of those hand gestures for his own performances. Matthew went on to demonstrate some awkward dance movements, and Nicki joked that Matthew could possibly be a model at some point. It was a definite no.
Thirty-seven Idol hopefuls made it to Hollywood during the Charlotte auditions. Fox's American Idol returns Thursday night at 8 p.m. Eastern with tryouts from Baton Rouge, LA.
Copyright 2013 ABC News Radio