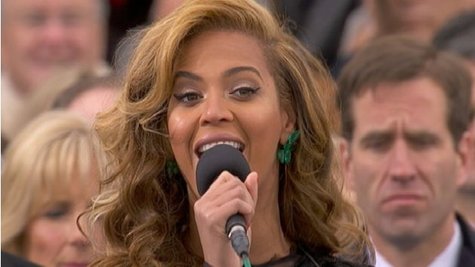 The news that Beyonce allegedly lip-synced the national anthem at President Obama 's Inauguration on Monday has caused quite an uproar, but one question remains unanswered: if she did it, why did she do it? After all, it's not like she doesn't have the vocal skills to pull off the song. One top vocal coach to the stars offers an explanation as to why Beyonce may have decided not to risk belting out the tune.
Jan Smith , whose voice clients include Rob Thomas , Colbie Caillat , Justin Bieber , Usher and many other big names, is a fan of Beyonce's and, while she won't comment about the actual performance, she tells ABC News Radio that performing in cold weather is one thing that sometimes trips up even the best vocalists -- and it was cold in Washington, D.C. on Monday.
"The vocal cords, which most people don't know, are in the windpipe and so when a singer breathes in cold air, it's kinda like...jumping into cold water," says Smith. "It restricts the cartilage and can sometimes create variances that way, or difficulties for singers to be able to perform well outside."
Not only that, says Smith, but "The Star Spangled Banner" is one of the most difficult songs to sing live, even for a Grammy-winning professional like Beyonce.
"[It's] a song that spans about 1.5 octaves, and it kind of scares most singers to death just because of where it hits them in their voice," explains Smith. "It usually splits their voice in half, and singers are not, typically, as comfortable in the high end parts or crossing over into falsetto. So, it's kind of a tricky song for most people."
So the combination of cold weather and a super-hard song may have been just enough for Beyonce to not take the chance of sounding less than spectacular. And that's O.K., according to Smith.
"Being old school and really, you know, priding myself on great live performances, I encourage my artists to do that always," she tells ABC News Radio. "But you know, there are sometimes reasons that people have to choose to do otherwise, and it can vary from...[the] elements, to sickness, to whoever knows."
So far, neither Beyonce nor her rep has made a public statement about the performance. However, a Marine Corps spokesperson says that the singer did not have adequate time to rehearse with the musicians before the ceremony.
Copyright 2013 ABC News Radio