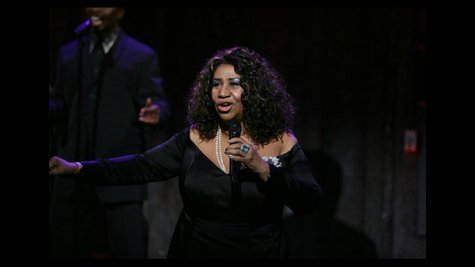 Aretha Franklin isn't concerned that Beyonce may have lip-synched the national anthem at Monday's presidential inauguration. The Queen of Soul thinks B "did a beautiful job."
"When I heard the news this evening that she was pre-recorded I really laughed," Aretha told ABC News in an interview Tuesday evening. "I thought it was funny because the weather down there was about 46 or 44 degrees and for most singers that is just not good singing weather." In fact, the weather was even colder than that in Washington, D.C., Monday, around 40 degrees.
Aretha continued, "When I heard that I just really cracked up. I thought it was really funny, but she did a beautiful job with the pre-record...next time I'll probably do the same."
However, Aretha says she didn't think about lip-syncing when she performed "My Country 'Tis of Thee" during Barack Obama 's first inauguration four years ago, on a bitterly cold day in Washington, D.C. She says, "I wanted to give people the real thing and pre-recording never crossed my mind."
So, does she think what Beyonce did was wrong?
"I think it's optional really, it's up to the artist," Aretha said. "She wanted her performance to be what she wanted it to be and she realized it wasn't going to be the way she wanted it to be or she was going to be running a risk. That's probably why she pre-recorded exactly how she wanted it to be heard."
Aretha added that Kelly Clarkson , who did perform live and also sang "My Country 'Tis of Thee," was "magnificent." Franklin further noted that she enjoyed James Taylor 's performance of "America the Beautiful" and was quite emotional throughout the entire ceremony.
Copyright 2013 ABC News Radio