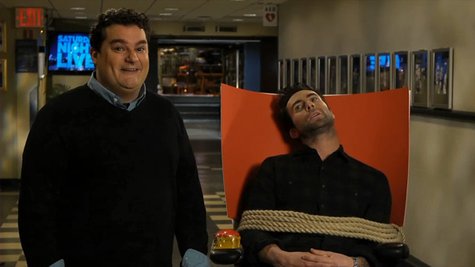 Maroon 5's Adam Levine is hosting Saturday Night Live this weekend, and in a new series of promos with cast member Bobby Moynihan , he has a good time poking fun at his gig as a coach on The Voice .
In many of the promos, he and Bobby are shown sitting in makeshift red chairs similar to those on The Voice , which appear to have been constructed from regular office chairs and red cue cards. The chairs have red push buttons -- which look suspiciously like the ones you can get at Staples -- taped to the arms.
In one, Bobby is shown singing badly while the back of Adam's chair is facing the camera. When Bobby's done, Adam turns his chair to the camera and we see he's been tied up. "I choose you, Bobby," Adam deadpans. "Of course you choose me!" laughs Bobby maniacally. "You have no choice but to!"
In another scene, both Bobby and Adam are sitting in the makeshift chairs, but when they try to turn around, their knees become entangled and they have to extricate themselves. Then, the chairs fall apart.
The funniest promo, though, pokes fun at Adam's reputation as a man whore. First, he announces that he's this week's host, and Bobby says, "You were a musical guest earlier in the season, now you're hosting. What's next?" "Sleep with a cast member," responds Adam. Bobby looks surprised, then replies, "Oh, that is a VERY firm yes." The two then sink down out of camera range as Bobby moves in for a kiss, which we never see.
Copyright 2013 ABC News Radio