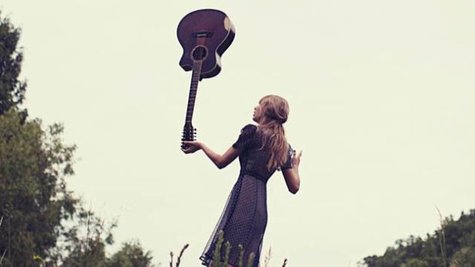 Taylor Swift 's career isn't even a decade old, but she's already managed to pass Madonna when it comes to an important chart milestone: she's now scored more Hot 100 singles than the Queen of Pop.
According to Billboard , "The Moment I Knew," a track from the Target exclusive version of Taylor's current album Red , has just entered the Hot 100 at #64 after being released on iTunes. That means Taylor has now scored 57 -- count 'em -- 57 Hot 100 singles. That takes her past both Madonna and an equally-legendary pop icon, Dionne Warwick , both of whom have scored 56 chart entries in their decades-long careers.
In addition, this means that Taylor is now #2 on the list of the all-time Hot 100 entries by a female artist. Number one is the Queen of Soul, Aretha Franklin , who has 73.
The reason Taylor was able to rack up so many in such a short time is, of course, due to the magic of digital downloads. Taylor has made all the tracks on her last few albums available for digital download separately, and her devoted fans have snapped them up, sending them into the charts on the basis of sales alone.
For comparison's sake, Mariah Carey has had 44 Hot 100 entries. Barbra Streisand 's had 41; Diana Ross has had 40. Janet Jackson 's had 39, and so has Rihanna .
Copyright 2013 ABC News Radio