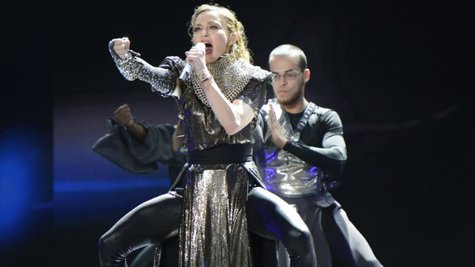 Madonna has tentatively reached a settlement with Marlon Brando 's estate after it sued her last year over her use of the late Godfather star's image during her MDNA tour. The terms have not been disclosed, according to The Hollywood Reporter .
The estate filed suit against Madonna last October, alleging that it only granted her rights to use Brando's image during a performance of "Vogue" at the Super Bowl, and not for her subsequent tour dates.
The complaint was filed in response to a lawsuit brought by CMG Worldwide, a firm that was responsible for obtaining the rights to use images during Madonna's tour of the late celebrities mentioned in "Vogue." CMG claimed Brando's estate backed out of an agreed-upon deal and asked for more money.
Brando's image was displayed during Madonna's tour when she sang the famous "Vogue" lyrics, "Marlon Brando/ Jimmy Dean /On the cover of a magazine."
The Hollywood Reporter says all sides recently told a court that a settlement has yet to be finalized.
Copyright 2012 ABC News Radio