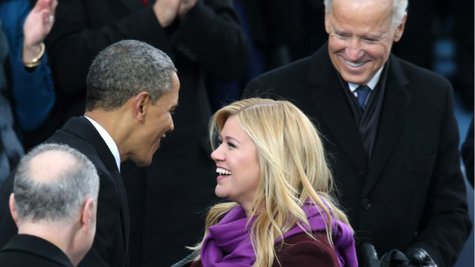 Following her triumphant performance at President Obama 's Inauguration, Kelly Clarkson is next looking forward to the Grammys, and then she'll be heading home to Texas for a good cause.
On March 1, Kelly will perform at the Verizon Theater in Grand Prairie, Texas to raise money for the Opportunity Education Foundation, which provides education to disadvantaged kids so they can improve their standard of living. The foundation has provided primary school educations for half a million kids in 11 different countries, and now plans to expand to the high school level, and to bring its work to needy communities in the U.S..
Meanwhile, Kelly is walking on air after her Inauguration performance. She tweeted, "What an honor to be a part of history!" and also posted a photo of herself talking to President Obama with Vice President Biden in the background. "Maybe the coolest photo I've ever been in ....ever :)," she tweeted.
But what was it like to sing in front of all those people? "I was incredibly nervous and cold, ha!" she tweeted . "I just wanna officially thank President Obama for opening for me haha!"
Kelly also posted a photo of herself talking to Beyonce backstage, and added, "Me and B just hangin' out ....Seriously, God did good. She is so beautiful!"
Copyright 2013 ABC News Radio