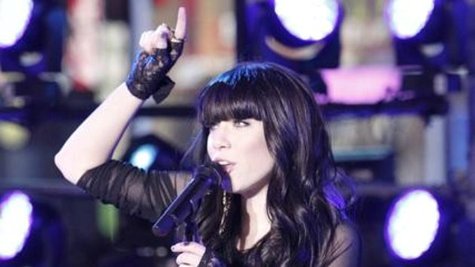 Last year, Carly Rae Jepsen appeared on an episode of the CW's 90210. Now, she's taken on another TV gig, playing herself on an upcoming episode of the Disney Channel series Shake It Up .
Entertainment Weekly reports that Carly will guest star on the February 24 episode of the show, and perform her song "Sweetie" on the series' show-within-a-show, Shake It Up, Chicago! In the episode, CeCe and Rocky, played by Bella Thorne and Zendaya , help Miss Burke, played by Tyra Banks , get together with her crush, Mr. Zigfeld, played by Alfonso Ribeiro .
Of course, appearing on TV is nothing new for Carly; she got her start on Canadian Idol, placing third on the show back in 2007.
And in other pop-star-appearing-on-a-kid-friendly-TV-show news, Entertaiment Weekly also reports that Cher Lloyd will guest star in an upcoming episode of the Nickelodeon series Big Time Rush .
EW says that Cher is taping her episode this coming week, and it'll air this spring. In the episode, James, played by James Maslow , is desperate for attention, so he and Katie, played by Ciaro Bravo , try to convince people that he and Cher are collaborating on a duet and video.
Copyright 2013 ABC News Radio