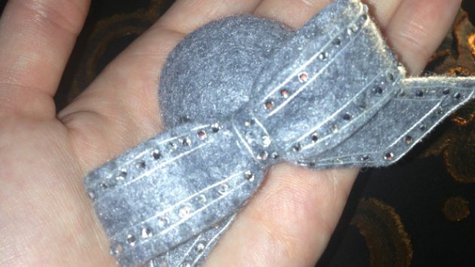 Four years ago, Aretha Franklin made headlines when she sang at President Obama 's first Inauguration ceremony while wearing a distinctive hat made of grey felt with an enormous bow. The hat soon became an Internet meme, and even got its own Twitter feed. On Monday, Katy Perry paid tribute to that fashion moment when she and boyfriend John Mayer attended Obama's second Inauguration.
First, Katy tweeted a picture of her hand, holding a miniature version of the chapeau. "Big inauguration, tiny Aretha hat," she wrote. Then, according to Us Weekly magazine, Katy and John were seen in the audience on the National Mall, and Katy "happily waved a handmade miniature version" of the hat. Dressed in an orange and black coat, the singer also took pictures of the crowd on her phone. John sat next her, wearing a black coat and pale blue tie.
Over the weekend, Katy performed at the Kids' Inaugural Concert, singing hits like "Teenage Dream," "Part of Me," and "Wide Awake" for an audience that included the first lady and her daughters Sasha and Malia .
Copyright 2013 ABC News Radio