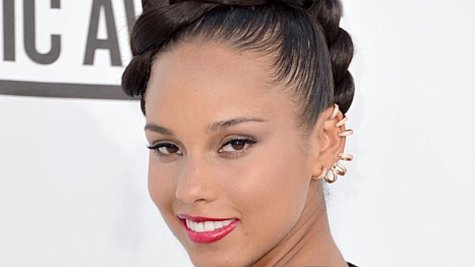 Alicia Keys is thrilled that she's been tapped to sing the national anthem at this year's Super Bowl. "It's really gonna set the game off," Alicia tells The Hollywood Reporter . "I feel really excited about doing that, and it's my first time really doing that -- the national anthem that really starts the whole game off so I'm incredibly excited."
Alicia adds, "It's gonna be a good 2013" -- and she has a lot to look forward to. Along with her Super Bowl performance, the singer is also an executive producer of the indie film The Inevitable Defeat of Mister and Pete, and she also composed music for the production. The movie, whose cast includes Jennifer Hudson and Jordin Sparks , premiered Thursday at the Sundance Film Festival in Park City, Utah.
In other Alicia news, she's having a hard time unloading her New York City penthouse, which she put on the market back in March. The U.K.'s Daily Mail reports that Alicia's now been forced to cut the property's selling price from $17.95 million to $15 million. The Manhattan home used to belong to Lenny Kravitz , and features floor-to-ceiling windows and a white and chrome kitchen area, according to the Daily Mail .
It's no wonder that Alicia is looking for someone to take the New York City spot off her hands. Back in October, she forked over $12 million to buy Eddie Murphy 's tony estate in Englewood, N.J.
Copyright 2013 ABC News Radio