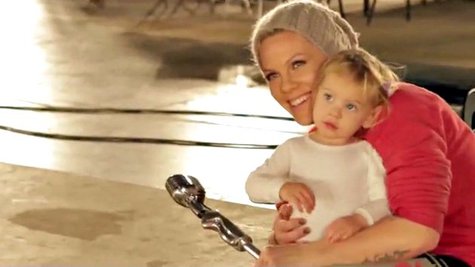 Pink's Truth About Love tour gets underway next month, and in a video of her tour rehearsals posted on her website, she shows off some of the moves she's planning to dazzle fans with when she hits the stage. But the singer also shows off her something even more interesting in the video: her daughter Willow .
As Pink and her dancers are seen working out their routines, the adorable blonde 18-month old watches from the sidelines. In other shots, Pink is holding and cuddling her, or has Willow perched on her lap while she listens to music on her computer.
Of course, there's also plenty of footage of Pink's choreography for each song, including some acrobatic moves that will find the singer hanging and twirling from the ceiling. She also climbs, sits and dances on chairs, leans up against what looks like a stripper pole, and does some dance moves that look similar to her video for "Try." All will be revealed when the Truth About Love tour kicks off February 13 in Phoenix.
Copyright 2013 ABC News Radio