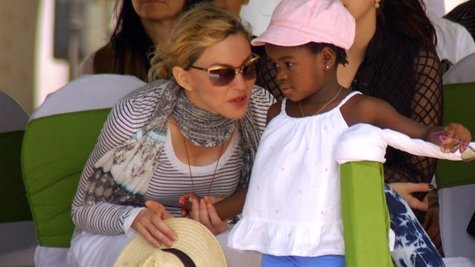 Since Madonna adopted her children David and Mercy , from Malawi, she's been involved in charity work in that country, but now her commitment is being questioned. The European news agency AFP reports that Malawian education authorities have denied the singer's claim that her charity Raising Malawi helped to build 10 new schools in the poverty-stricken country last year.
"Raising Malawi only built 10 classroom blocks and not schools. People should know the difference between the two," Malawi's education minister Eunice Kazembe said, according to AFP. On behalf of the country, the minister said it was important to "clarify any misconceptions that may arise." She added, "The schools Raising Malawi claims to have constructed were already in existence."
Raising Malawi had been working with the global non-profit buildOn to provide education to thousands of kids. When she first announced the school construction, Madonna said she was, "overjoyed that my commitment along with buildOn's to help educate the children of Malawi has come to fruition."
Working in Malawi has not been without issue for Madonna. In 2011, the singer scrapped plans to build a girls' academy in the village of Chinkhota, located outside the nation's capital, due to mismanagement.
Madonna founded Raising Malawi in 2006 to help end the poverty and hardship endured by the one million orphans and vulnerable children in that country. That same year, she adopted David; in 2009, she adopted Mercy.
Copyright 2013 ABC News Radio