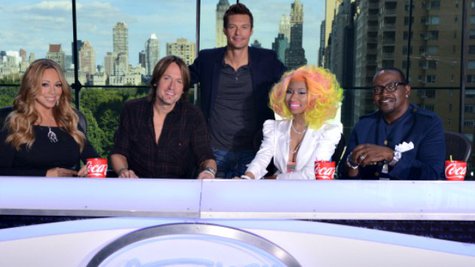 All eyes were on American Idol 's season 12 premiere Wednesday night hoping to see fireworks between new judges Nicki Minaj and Mariah Carey , and they definitely delivered the drama.
Mariah and Nicki started the night off with a little tiff over Nicki's feathered hat sitting on the judges' table. It got worse from there when one of the contestants told Mariah "All I Want for Christmas Is You" is the best modern-day Christmas song. As Mariah noted the song went back to #1 again last year, Nicki started calling Mariah a bitch to the camera. Mariah shot back, "If she's calling me something that begins with a b, I rebuke it."
More disagreements between Mariah and Nicki were featured on the Idol season premiere, but there were actual auditions happening in between the fighting. Fellow newbie Keith Urban and veteran judge Randy Jackson sat in between the dueling divas as the panel listened to Idol hopefuls in New York City. Here's a sample of what they heard:
The Good
Mariah super-fan Teena Torres actually went to the diva's youth camp when she was 13. Teena sang a song by one of Mariah's own idols -- Carole King 's "You've Got a Friend." Mariah and Nicki actually agreed on it, and all four judges gave Teena the go-ahead to Hollywood.
Christina "Isabelle" Pasqualone put a smile on Keith's face with her take on "Summertime" from Porgy & Bess . Nicki said she saw Christina going very far this season. Keith thought she was a natural singer, and he loved Christina's vulnerability. Mariah loved her song choice, and Christina made it to Hollywood.
Shira Gavrielov has already scored a #1 hit in her native Israel, and she's hoping for a shot at the American charts. Nicki called Shira a "superstar" after her tryout with Amy Winehouse 's "Valerie." The judges all voted to send her through to Hollywood.
Frankie Ford sings for tips on the subway in Manhattan, and he's hoping to take his act above ground to the Idol stage. He started off singing Eurythmics ' "Sweet Dreams (Are Made of This)," but stopped after two lines due to nerves. Once he started again, Frankie had the judges smiling with delight. Keith loved Frankie's big voice and personality. Mariah said Frankie had an "inner glow," and he promised to work hard after the judges sent him on to Hollywood.
Seventeen-year-old Sarah Restuccio had a country flair even though she comes from New Jersey. Nicki liked her tone on Carrie Underwood 's "Mama's Song," and Mariah said she saw a complete package in Sarah. Things took a left turn as Sarah delivered a spot-on rendition of Nicki's hit "Super Bass." Keith and Mariah didn't quite get who Sarah was as an artist, but Nicki defended her. In the end, the judges all sent her on to Hollywood.
Angela Miller suffers from hearing loss, but you couldn't tell it from her rendition of Jessie J 's "Mama Knows Best." Nicki said she felt Angela's performance in her soul, and Mariah loved her soulful tone. Angela is headed to Hollywood.
Gurpreet Sangh Sarin matches his turban with every outfit and told the judges he sometimes goes by "The Turbanator." He sang Maroon 5's "Sunday Morning" for his audition, and Randy had him sing some Indian scales before he left. The judges thought Gurpreet's voice was pretty, but they thought it might be a little too light for the competition. Randy and Mariah gave him a yes, but Keith passed on him. Nicki ultimately gave Gurpreet the ticket to Hollywood.
Ashley Feliciano tried out with Corrine Bailey Rae' s "Put Your Records On," and Nicki called the performance inspiring. Mariah thought Ashley had big potential, and Keith complimented her tone. Ashley comes from a big family that adopts kids with medical issues. The entire clan came in to hear that Ashley made it to Hollywood.
The Bad
Evan Ruggierio started off as a singer and dancer with dreams of going to Broadway, but his dreams got derailed a few years back when a battle with cancer forced doctors to amputate his leg. Evan hoped a spot on Idol would help revive his dreams of stardom. He tried out first with Jason Mraz 's "I'm Yours," but he was a little stronger singing and playing Bon Jovi 's "Wanted Dead or Alive." Keith liked Evan's voice. Nicki didn't think Evan was strong enough for Hollywood. The judges all said no, but Mariah and Nicki both said he'd encouraged them being there.
Jessica Kartalis from Long Island actually got a visit from Randy inviting her to come audition, and she tried out singing an original song. She had a little trouble playing guitar, and Nicki thought Jessica needed to come back next year. The rest of the judges agreed with Nicki but encouraged Jessica to not give up.
Rozanna Shindelman sang the Teddy Bears ' 1958 hit "To Know Him Is To Love Him," and she admitted it was a last minute song choice. Before her audition, Rozanna told the judges she only sang at home in front of her parents, and it was a performance only a mother could love. Randy said, "Dude, it was bad." Keith agreed, and it was a no for Rozanna.
Brett Holt tried out for American Idol for a seventh time this year, and he was hopeful this was his time to make it to Hollywood. After his off-pitch performance of the standard "When I Fall in Love," it was obvious Brett will never make it to Tinseltown.
The Really Bad
Michael Buonopane came into the audition room singing a version of Queen 's "We Will Rock You" with rewritten lyrics geared towards the judges. He then attempted to recreate turning the dial on a radio station singing different styles of music. He was clearly in his own little world as the judges started telling him it was a definite no.
Fifteen-year-old James Bae hopes to become the next Justin Bieber , and he tried out with a tone-deaf, mostly spoken take on Bieber's "One Less Lonely Girl." It was so bad, Randy actually commented on how nice it was outside in Manhattan that day. Mariah suggested James might want to look into DJing, and Randy asked James to never sing again. Nicki gave James a kiss on the cheek before he left, so at least he'll have that to hold on to.
Benjamin Gaisey showed up in a ridiculous curly wig and a red, plastic suit he wore a few Halloweens ago. Benjamin sang a lackluster medley of Boyz II Men 's "I'll Make Love to You" and Babyface 's "Every Time I Close My Eyes" addressing the lyrics to Nicki and Mariah. He continued with Mario 's "Let Me Love You," and accentuated the song with pelvic thrust. Keith hid under the desk after the thrust saying, "It's not safe up there." The judges tried to let Benjamin down easy, but Randy finally told Benjamin his voice was terrible.
Albert Chang didn't seem quite sure where he was before entering the judges' room. His pitiful rendition of "Phantom of the Opera" had Nicki giggling and Randy throwing up his hands.
Forty-one contestants from New York City made it to Hollywood. Idol auditions continue in Chicago Thursday night at 8 p.m. Eastern time on Fox.
Copyright 2013 ABC News Radio