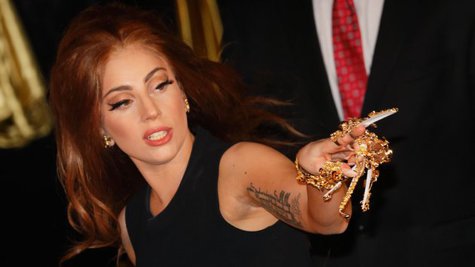 The ongoing feud between Lady Gaga and the Osbourne family shows no sign of stopping. Despite Kelly Osbourne 's assertion to People magazine that she "loves" the singer and is a "big fan," her mom, Sharon Osbourne , used her show, The Talk , to attack Gaga for what she feels is a failure to put her money where her mouth is.
Sharon's angry because Lady Gaga's fans are issuing online threats and insults to Kelly, Sharon and the entire Osbourne family, threats so violent that she's written to Gaga's manager to ask if he could ask Mother Monster to let her Little Monsters know what they're doing isn't cool. Sharon feels Gaga is being hypocritical to the ideals she's promoting with her Born This Way Foundation, which hopes to encourage a "braver, kinder world."
On The Talk on Monday, Sharon revealed just what Gaga's fans have been saying about her and her family, and for how long. "It started last February," Sharon said, "But I sent [a letter to the manager] last week, because this time, they brought my son into it, and they said that my son didn't have MS, that he was just a retard."
Last June, Sharon's son Jack Osbourne announced that he'd been diagnosed with MS.
In addition to the comments about Jack, Sharon said Gaga's fans said online "that I should die, my husband should die, we should all die in a car crash. So anyway, I wrote to the manager again and I said, 'Please, for the second time, please ask her just to say something.'" Sharon feels that Gaga could easily stop the threats with just a word, but she evidently refuses.
"Gaga wants a kinder world," Sharon fumed. "[Well, then] don't let your fans be so hideously damaging, hurtful, violent, [and] spread violence on your website!" She added, "If you are a Mother Monster, monitor it!"
Sharon pointed out, "She has a huge group of people that work for her that monitor her website," and then addressed Gaga directly, asking, "Why haven't you, as a responsible young woman, said, 'No violence on my website, no violence, no threats, no violence?'" The audience cheered at her words.
So far, Gaga has yet to respond, but she's a bit busy, because her Born This Way Ball just launched its North American leg this past Friday.
Copyright 2013 ABC News Radio