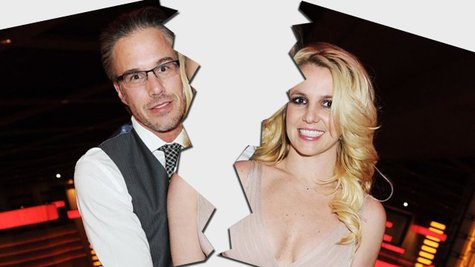 Newly-single Britney Spears is rumored to be on the verge of signing a big-bucks deal to do a show at Caesars Palace, but the fact that she's no longer engaged to Jason Trawick could slow down the deal.
A veteran Vegas entertainment publicist tells The Las Vegas Review-Journal that Britney without Jason may be a risk that a Vegas hotel may not be willing to take. "What was stabilizing her was X Factor and having Jason in her life," the publicist, who spoke under condition of anonymity, claimed. "I worry about what's coming down the pike without that stability."
As fans will recall, Britney had serious personal issues in 2007 and 2008, but since her affairs were taken over by her dad, Jamie, and she got involved with Jason in 2009, things have been great. The Las Vegas Review-Journal reports that Britney has actually been offered a Vegas residency several times, but she's backed away each time. As recently as last April, the paper reports, Britney's manager Larry Rudolph met with the Hard Rock Hotel & Casino to discuss a possible partnership.
Meanwhile, People magazine reports that Britney and Jason split, in part, because she wanted more kids and he did not. And E! Online reports that Britney has returned her $9,000 engagement ring to Jason. He presented it to her on his 40th birthday in December of 2011.
Copyright 2013 ABC News Radio